We supply and install all levels of Intruder Alarm Technology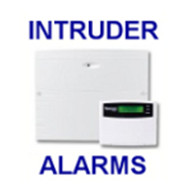 Stand alone Intruder Alarms – in the event of activation siren and strobe lighting sound externally and internally – normally residential.
Telephone connected with voice/text dialer – Upon alarm activation you receive a pre-recorded voice message or text to that effect – normally residential / small or low risk business.
App Controlled Intruder Alarm  – Alarm can be set/unset from your App or by the traditional method of the keypad. If the Alarm is Activated Contact is made to Directly to your phone where an Alert will be sent.
  The App alert tells you which room was activated, together with the time and the date of the       activation in real time.
  The App is fully functionable – allowing full remote control from anywhere in the world.
  The system allows for multiple users – giving full traceability and logging of any Alarm setting or un-setting by individual users.
For a free estimate or general contact please use any of the details below.
Please do not hesitate to contact us via the above form, email below or call us on >> 028 3835 1522 / 07802 311433
email:- info@nisecurity.co.uk
Address
Unit 4 CIDO Business Complex Carn Industrial Estate, Portadown, Co Armagh, BT63 5WH